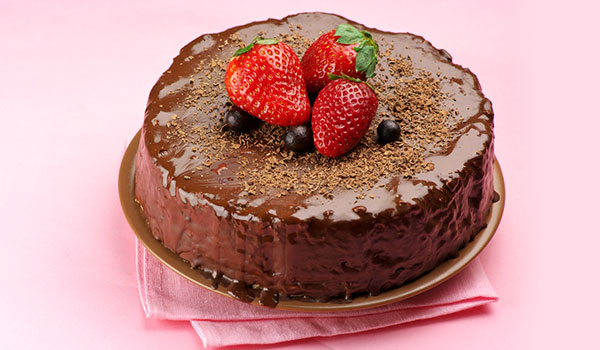 Are you seeking for the fantastic gift for your loved ones? Or willing to steal their heart away? A right chosen gift can work wonders! You might have seen people struggling in finding something exceptional for their beloved ones. Actually, selecting something extraordinary takes a lot of time. Perhaps, you have to wander from one gift store to another in search of the desired one. And, there are many chances that you may return empty hand because of the unavailability of the product. So, are you willing to regret not buying anything for your loved one? Obviously No!
Despite what the advertisements say, your special one needs no personalized gift to be reminded that she's No. 1. Instead, show her how much you adore her with a yummy softy pink cake made from the freshest strawberries. Everyone always likes strawberry cake. It is moistened with layers of fresh strawberries and mixed cream cheese frosting. Here we present you how to bake a cake that's moist and mouth-watering for your celebration. It's made only from fresh strawberry (no mixes or unnatural food coloring required) and is one of the most loved fruit recipes. Go ahead and make this cake on any special occasion for surprising your loved ones.
It can be the best surprise gift for your loved ones and also the best delight for spending some precious time with them. We hope you are going to love the strawberry cream cake. So, let's begin baking your favorite cake at your home. Below listed are the ingredients and way of how to make it. So, start baking this creamy delight by following the recipe guide step by step! Go ahead and make your loved ones extremely happy with strawberry cake delivery. This strawberry cake is perfect in every way: simple ingredients, natural to make, and completely yummy. Everything about this cake is good and also healthy for your health.
Preparation Time: 30 minutes
Baking Time: 1 hour 15 minutes
Servings: 14-15  
Strawberry Cake Ingredients
2 Eggs

1 tsp vanilla extract

2 cups all-purpose flour (*measured correctly)

2 tsp baking powder

1/4 tsp salt

12 oz strawberries hulled

1 tsp powdered sugar for dusting, optional

Strawberry Sauce Ingredients:

16 oz strawberries hulled and halved

1/4 cup granulated sugar

 1/2 cup light olive oil and vegetable oil
Directions How to Make
In a mixing bowl, using an electric mixer (or stand mixer), mix together two eggs with one cup sugar on high speed for 5 minutes.
Add one cup sour cream, 1/2 cup oil, 1 tsp vanilla and mix on low speed until it is combined perfectly.

Take a small bowl, whisk together: 2 cups flour, 2 tsp baking powder, and 1/4 tsp salt until well incorporated. With the mixer on medium/low speed, add flour mixture to batter 1/3 at a time, letting the flour combined with each addition and continue mixing just until well combined. Do not over-mix.

Put half of the batter in a pan. Top with 6 oz strawberries then spread the mixture on the top.  Now, you have to cover the surface with 6 oz of half strawberries. Press them down in a gentle way into the batter. Bake it for 45-55 minutes at 375

̊

F. Next, to check whether the cake is cooked or not, put a toothpick into the center of the cake. If it comes out clean, then congratulations, you are ready with the cake. Let cake rest in pan for 15-20 min then remove the ring and cool to room temp or until just slightly warm.

Run a fine spatula throughout the edges of the cake to loosen from pan. Afterward, transfer the cake into the cake platter. Allow colling. You can also dust it with powdered sugar. Drizzle individual slices generously with strawberry syrup.
So, what are you waiting for? Bake this cake at your home to create some sweet moments. You can also surprise your loved ones on their birthday with birthday cake delivery. So, now the time has come to make beautiful memories with your loved ones. This delicious cake is considered to be the perfect delight to put a smile on your loved ones face. Isn't it. So you just follow the above points step by step and get your favorite strawberry cake ready in a few hours. 
Hurry up! Try this out! So, try the full of this recipe that I have shared with you guys. I hope you can like and try to make this cake at home and impress your loved ones and relatives. And if you are too busy in your schedule and have no time to bake the cake at home, you can order an online strawberry cake. A delicious cake will be delivered within a few hours!
Author Bio :