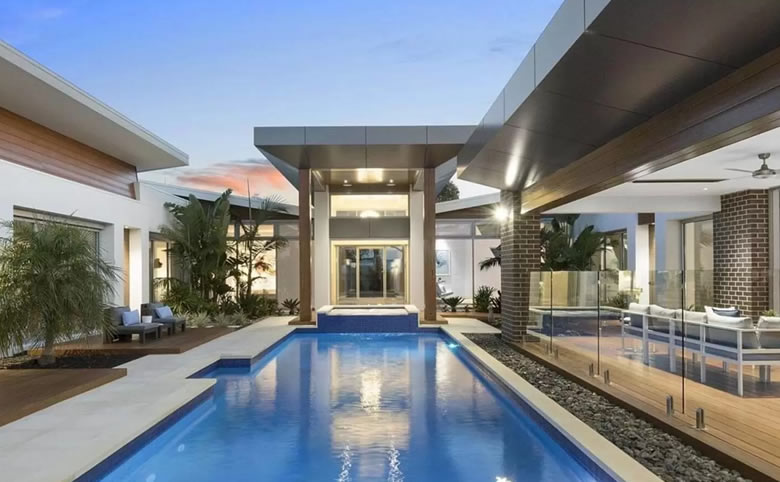 Home renovations are something to be excited about. From painting a new colour to your walls to reshaping your garden – remodelling your home fills you with the adrenaline rush. But the only downside of it is its highly cost-oriented. Consulting professionals to buying all the accessories, your budget will quickly dwindle if you are not being careful.
So, how to remodel your home within your budget? How to give a new look to your home without sacrificing all your savings? It's simple – by trying some of the budget-friendly home renovation tips. Focusing on the worthy areas like kitchen, bathroom, painting the walls, adding fresh wallpapers, etc. will give a new look to your house without entirely emptying your pocket.
To help you achieve that, we have collected here the DIY tips that you can do as a part of your weekend project:
Clean the exterior walls and roof
You don't always need a fresh coat of paint to make your exteriors shinier. Sometimes, dusting away the cobwebs, dirt, and the other visible particles from the ceilings and exterior walls will do a perfect job in making your outside space appear clean.
Once or twice a year, roll up your sleeves and pick a broom and look where the dusting is needed the maximum. Now neatly sweep away the dirt by taking the extra care at the corners and other difficult places. Maintaining the curb appeal is enough to make your home look fresh, new and neat.
A removable wallpaper
Are you wondering whether to add paint or a temporary wallpaper to your interior walls? While a fresh coat of paint certainly enhances the walls, adding a wallpaper will be equally enticing. Try various removable wallpapers in each room differently.
For instance, in a kids' bedroom, you can add any cartoon or super hero's posters to keep your kid curious and active. If it's a bedroom, you can paste soft and cool coloured papers to feel you relaxed.
Tweak your entrance door and windows
Is your main entrance door looking dull and worn out? Are the frames of windows looking rusty with the paintchipped off? Then it's time to give them a shinier look. Polish your door or invest in a new one to change the look of your entrance. Paint your window frames with a new colour which matches with your home architecture.
Doing this along with dusting your exterior walls is enough to bring an appealing house front to attract people's and buyers' attention.
Paint your walls
Go for painting your walls only when the existing one is looking dull, chipped, and unappealing. As painting your entire house costs you too many bucks, it is better if you first inspect the state of the paint, and then deciding whether or not to re-paint it. The same tip goes for your workspace as well. First, know how much important the office cleaning is, then gofor painting the walls, as expert cleaning will successfully replenish the tidy look.
Repair your cabinets
To elevate your interiors, cabinets are a fine and luxurious option. Whether the cabinets are in the kitchen, living room or in the bathroom – changing the design of your cabinets will give a new look to your home. This is the best option to go for when you are running low on your budget. Instead of entirely changing the cabinets, giving a new appearance to the door will do the trick in bringing back the former and unique glory to your house.
Stick a new backsplash
When renovating your kitchen, give it a new look by sticking a new backsplash that only looks aesthetic but protects your walls from oily and greasy stains.
According to the size of your kitchen and the amount of light you get, you can add a backsplash that is available in various colours and sizes. If you have a dark-coloured kitchen, choose light or warm shades or go for a dark hue when the kitchen attracts too much light. It is an excellent option to create harmony in your cooking space without overwhelming your mind. And the best part, it doesn't cost you too much to renovate your kitchen space.
Try new decorative artwork like metal
When you are decorating your interiors, instead of going for typical flowers and some other normal things, choose unique and artistic pieces like metal art. Whether it's glowing gold finish or silvery-white shades – metal wall art will raise the interior aesthetics to the highest levels. Not only will it give your home a trendy look but also increases the total worth of your home at minimal investment.
Invest in new curtains or blinds
Perhaps, your curtains are what giving your interiors a dull and dusty look. Curtains, if maintained properly, last so many years. However, it doesn't mean they last for a lifetime. Observe whether they are faded, splintered, or worn-out. If they are, then change them with new curtains that can match with your home interiors. According to the room, you can choose one accordingly.
It's never too late
If you are stuck between wanting to renovate and thinking that it would cost too much, it's never late to implement some of the ideas mentioned above. Calculate how much budget you have and see how many ideas you can implement. Remember, renovating little things do a tremendous job in turning your home into something more appealing and beautiful.
Author Bio :