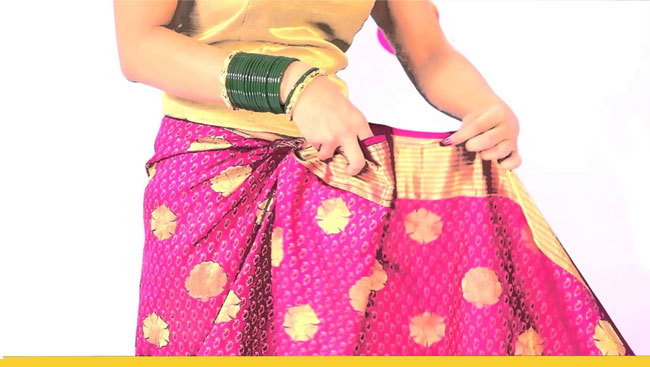 Gaining Weight these Days and wondering how to wear Saree to look slim?? Don't worry, we have researched a lot to save you from this confusion!!
When it comes to looks, saree is always rated as the best among all the attire that Indian women wear, saree symbolizes the completeness of womanhood, and fills an aura of ethnicity and festivity.
It is an integral part of our clothing legacy. In all the main events, festivals and parties ladies wear this outfit repeatedly. It gives a sober look with a kind of appearance that has an elegance and ethnic touch. It suits almost every woman. Ladies of all age wear it with pride and a sense of flaunting and feel incredible.
But if you turned a little obese and worried about wearing your favorite saree on the upcoming event than its time to relax and get some solutions by Vasansi Jaipur, through which you can manage to look slim and rock the show !!!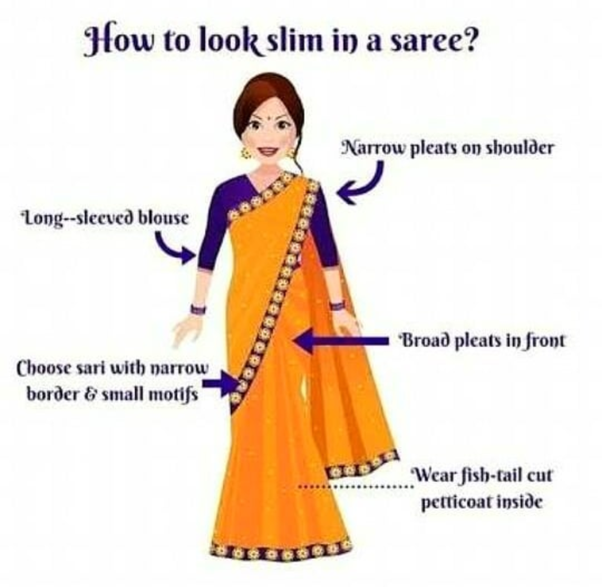 Let's Find Out How to Wear a Saree to Look Slim and Tall
#1 The Style of Draping
The way you drape your saree along your body plays a vital role so
Don't leave your saree loose try to cover as much as possible and tuck it nicely.
Avoid multiple pleats try for lesser pleats but neatly pleated, it will give nice drape to your curves. Multiple pleats accumulated at the bottom of your saree gives it a clumsy look.
Keep the palla loose open on your shoulder it will add grace to your overall appearance.
#2 Choose the Colors Wisely
Colors of clothes have this unique characteristic to make you appear slim or fat, Dark colors are often known to make you look less fat than you really are. So the best tip to look slim in saree is to wear dark colors.
Next time you go on shopping don't just go for good colors go for colors that suit your body weight, because who doesn't want to look charming.
#3 Choose Long Sleeves over Short ones
Short sleeves are an old practice so it's time to experiment with the long sleeve as it not only make you look taller but gives an thinner look. In these Long sleeves ,you can mark your identity as an unorthodox individual who loves to try new things. Choose long sleeves over short to look slim in saree.
#4 Choose the fabric that Hugs You
This is also one important feature, there are fabrics that go well with our body so always prefer fabrics that cling to your body more naturally than others.
Avoid thick fabrics like cotton as they add volume to your look especially on drapes. Even if you want to choose cotton to go with the thin one. Mostly choose thin and airy fabrics like georgette, satin chiffon etc.so to look slim in cotton saree you need to select thin cotton.
#5 Choose Small & Widespread Prints
Everyone runs behind eye catchy and fast prints and they are absolutely correct in doing so, as nice prints always grab attention. Since you are in search of fashion that cuts your extra size than its recommended that you choose small prints which are widespread on some plain base.
#6 Abandon Big Borders
void broad borders as they make you look even bigger, it helps slim ladies to look voluminous, but for the one who desires to look slimmer its a complete no….no means no.
#7 Hide your Tummy
Never try to leave your tummy uncovered until you get a well-toned waist because that can turn out to be a dangerous attempt, in terms of look, rather you drape it beautifully so that you can manage to make it look sleek. 
#8 Keep it Below the Navel
Try to drape your saree just below the navel as it helps to elongate your frame and ultimately make you look slim.
Ok, your half work is done, these are some basic tips that can help you but how beautifully you implement them that is the main game.
So, now we have shared all the secrets so dont wonder how to wear a saree to look slim and tall, just follow these simple tricks.
Though there is no alternative to go for exercises and activities  like gyming aerobics yoga etc for fat loss as it is the best fashion tip to look slimmer but when will you start this journey , that is unknown!
Till then you can embrace these practices to wear saree to look slim with the same elegance and charm.
Author Bio :