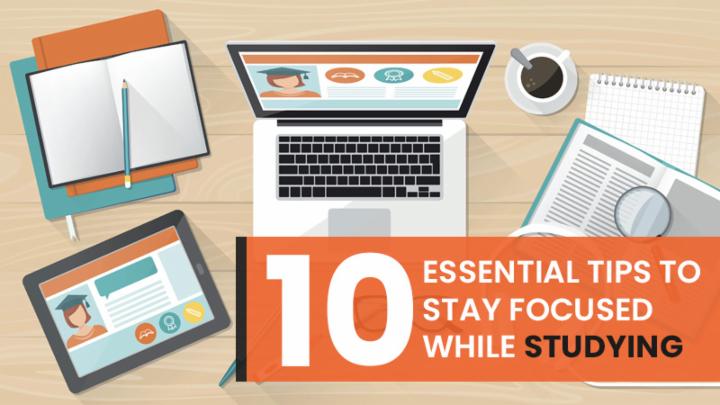 Studying with a focus is difficult. Whether you are a kindergarten student or a veteran pursuing a Ph.D., maintaining concentration is a challenging thing that everyone faces. When a person is unable to focus, this inability hampers on the work and studies so much. As an impact, students sometimes start losing their confidence and other consequences have been noticed as well.
This lack of concentration can also cause because of some stress, so first find out why you are unable to focus and then follow trick to stay focused.
To inspire yourself can also read people's success stories on highlightstory.com, you can even write your story and make the world your audience.
So to get out of this inability read below points to keep your mind focus while studying.
Look for the best place which you find easy for concentration during studying. The place could be your school or college library, study plan, the terrace of your home, any park or any friends' house. Make sure that the study spot is clear and clean and have enough space for all your study material like books and laptop. Make sure the study place has a power supply, fully furnished, and has enough place to change your posture. The place should be silent, clear from any distractions and should be far away from pets and TV.
When you want to stay focused on the study, it is crucial to create a systematic plan to stay concentrated and inflow. This process involves making a scheduled timetable, gathering all the study material and cleaning your desk. Make a list on the paper or digitally. Make sure it reminds you consistently of your routine. The time table should include your wake up time, eating time, sleeping time and the time you spend studying. You can make flexibilities while following it, but don't delay for a long. Once you get used to following, sticking to your timetable will be easy.
Spending too much time on social media is the reason behind the low productivity of people and it can destroy any focuses study plan. You have made all your mindset to study and suddenly the sound of notification comes it catches your eye and you are distracted. These little distractions are initially for a few minutes and then convert into countless hours. Then it takes a lot of time to refocus on your task. Instead, take small breaks and check the important messages and calls. Don't answer them during studying hours unless they are important.
Sometimes it becomes more difficult to concentrate when some constant thoughts are coming on your mind and you may have no control over them. Set aside the time to think about other things. Your mind keeps wandering unnecessarily and thinks about the elements that are not relevant to your study. You are to keep control of your thoughts. In this situation, take a minute to refresh your mind. Take a quick walk and write your thoughts on a paper that comes during study sessions.
Make small notes of characters, plots, and events with brief examples. Recheck the spelling and grammatical errors. This will push you to review things. The technique will improve your focus, keep you attentive for small details and promotes the learning process. You will notice a change in your comprehension and retention skills. Making notes is a proven method for increasing memory, and it is significant for students to keep important details and ignore the unnecessary ones. As we are aware organizing the things will strengthen the learning skills. In this scenario, students are free to use their innovation and creditor.
Take small breaks of 10-15 minutes after every one hour of study. These little breaks are essential to keep you moving. Only good grades in your academics are not rewarding for keeping you concentrated, your favourite food, watching your favourite show, listening to a song, taking a short nap, talking to your family or friends, shopping is also rewarding. You feel energized and contented which keeps you healthy, strong and motivated during long study hours.
Learn While Playing Soft Music
The music may help you concentrate or even distract you. Find out which suits you the best. Listen to the music which is relaxing and soothing to the ears. This may reduce a feeling of fear and diminish stress and anxiety. This calms and makes you a happy person. The loud music has adverse effects as it makes you angry and restricts to recall the information you studied. Listening to classical music helps to memorize does not divert from writing and studying tasks.
Learn to say no to the things that are the real cause of your interruption. Limit your activities on social media; don't spend too much time talking over the phone. If anyone asks you to accompany them for the movie or shopping, politely tell them you are busy and you can make it on another day. You have to take these bold decisions to keep you focussed. People who agree to everything are quickly liked by people. Be selective of your priorities and your life will be stressful while making decisions.
Keep your body engaged with the mind. Keep a pen, pencil or highlighter to underline and highlight important points. Keep your hands moving with your eyes and read loudly.
Keep a ball or cube near to play with it. Do some yoga or exercise to relax the muscles and freshen your mind. Keep in mind you have to keep your body fit while studying. If the mind and soul are not healthy, you cannot achieve complete success. Stretching your body and taking a quick shower is energizing.
Only you can motivate yourself when you feel pessimistic. No one can stop you to achieve success but only your thoughts can. If avoiding negative thoughts is difficult, you can reframe them.
E.g.1. This subject is so boring. I cannot study
Reframe: This is my favourite subject, and it's very easy for me to learn.
These negative emotions occupy your brain and convert them into positive ones. You just need to convince your mind for better concentration. Following these steps will make you feel a less burden for studying and take you towards achieving your goal, therefore keeping you motivated and empowered.
Author Bio :