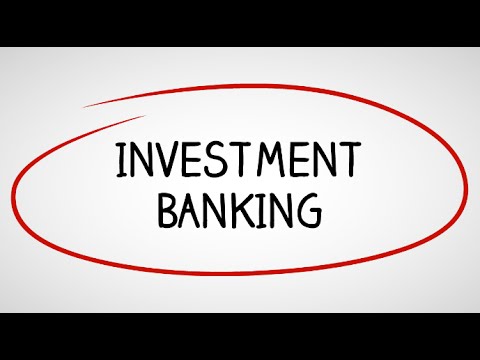 In the realm of high finance, investment banking is indeed at the pinnacle now. Investment banking deals with the customer's requirement for financial services in order to broaden their opportunities in money management. The banks provide services such as venture capital, trading, underwriting, mergers and acquisitions, finance management and much more. A smaller bank would provide these services with a partner firm.
In this industry, you can expect to have a six-figure salary and bonus within a year and the growth of the global economy suggests that the future of this field is only going to heighten more. No other field is moving as fast as finance, and there's a fierce competition in this field too. Individuals who are keen to pursue investment banking roles will find that this is one of the fast-paced industries and global in nature. It is an ideal time to plan a career in investment banking as the investment banks are entirely dominating the global financial activities. But, this field is not for everyone. It takes a special requirement and skill to have a successful career in investment banking.
The recommended leadership qualities are important for investment banking roles:
Being a positive thinker. No matter how complicated the situation becomes, the professional must have the resilience to pace themselves to stay on track.
Goal oriented. In the investment banking roles, the professional has to make many conscious and smart decisions in order to reach their unremitting goals. To develop the skill, the individual must be action oriented and make specific plans on how to reach there. They should always know their special moves. Being pro-active is the only requirement in this industry to always stay ahead of your competitors.
Being creative and innovative. Working in investment banking demands a great deal of creativity and innovation that will make you unique from others. If everyone is doing the same thing, then the individual must head to different direction to discover the unique niche which would improve the chances of getting accomplished.
A fully fledged investment banking generally consists of major divisions such as corporate finance, mergers and acquisitions, public finance, sales and trading, and research. There is a wide range of financial services available for the clients who are looking to issue stocks and bonds. The investment bank helps them to find out the potential investors, promotes them, advises on mergers and acquisitions, creates new securities, and are constantly in touch to manage the finances of the client.
A career in investment banking is best suited for an ambitious individual who possesses strong analytical skill set, impeccable interpersonal skills and has the ability to lead the team in every diverse situation. There are great risks and pressure in this dynamic field. One must be prepared for this, as most of the work weeks would consist of spending 80 to 100 hours at the office which is very common. Many people go for the MBA in finance as it is an added knowledge to obtain.
Author Bio :