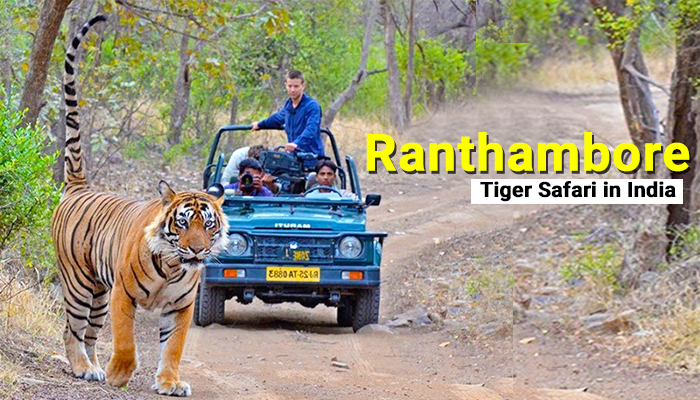 Ranthambore is most popular tiger reserve for Tiger safari in India. The park is located on the Aravali ranges near to Jaipur city in Rajasthan, which was once the hunting place for Rajasthan royal family. It is a rich arcade of heritage, flora and fauna, hence best place to seek tiger's wandering in a most natural way in their natural habitat.
The tantalizing paradise for the photographer, adventure seeker, wildlife enthusiast, has many bounty attraction which makes it, the most popular and highly visited place to enjoy tiger safari in India.
What Makes Ranthambore Tiger Reserve so Popular?
During your stay in Ranthambore Tiger reserve, you not only enjoy the adventurous and thrilling Tiger Safari but also experience the bountifulness of rich and royal heritage and culture of the land. The important features of the Ranthambore Tiger Safari in India that makes it popular are listed below:
Tigers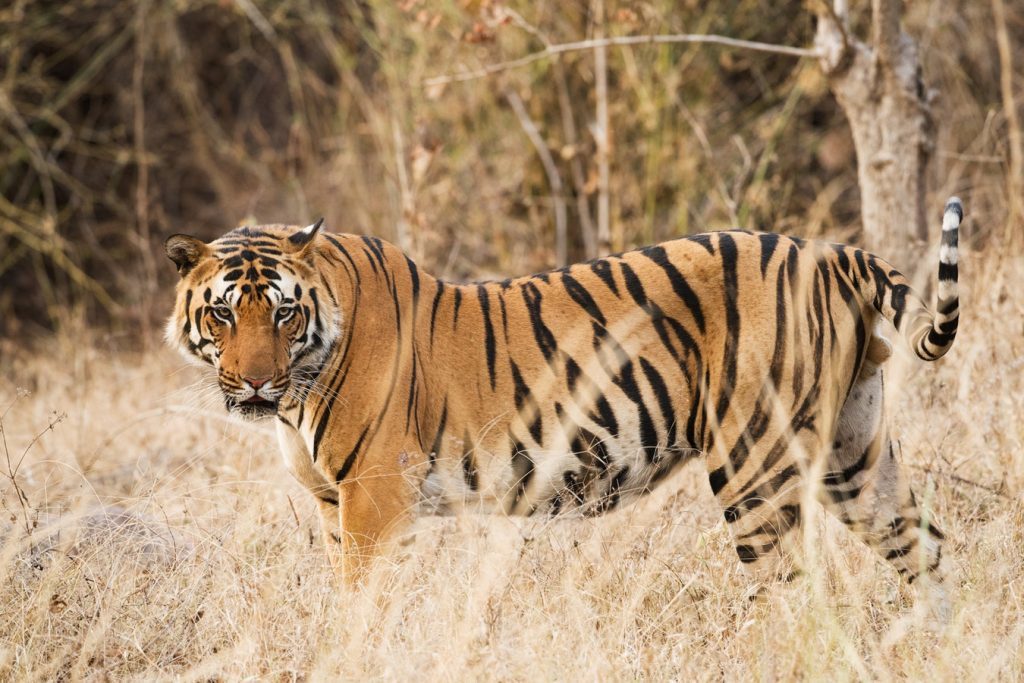 The gregarious tigers in a plethoric number of 70 can be found in the area of 282 sq km which makes spotting of the tiger in every 4km  run possible. The Royal Bengal tiger can be spotted basking under the sun, playing in the pond, ambling, yawning and sometimes even posing for pictures in a cordial manner. You will certainly be no more frightened about this royal beast but instead will fell in love with them.
Forest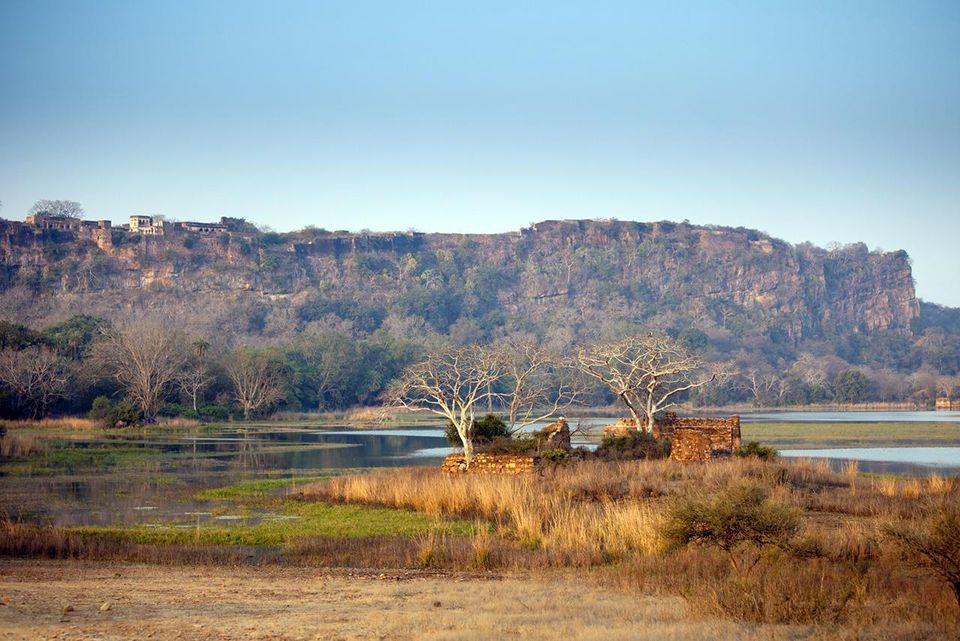 The park is covered by Aravali ranges and has moderate rainfall during a year. The dry deciduous forest only shows some greenery during monsoon. The dry forest soon becomes perfect for wildlife to camouflage with the environment and live its natural habitat.
The forest is then divided into 10 zones. Zone 1 to Zone 5 are the best zone to spot a tiger, but in recent days lot of action can also be seen in zone  6,8 and 9, clearly stating you can't bind the king of the jungle in any boundaries. Zone 3 is considered as the best zone for the safari to enjoy the beautiful landscape and architectural monument while expedition.
Safari Rides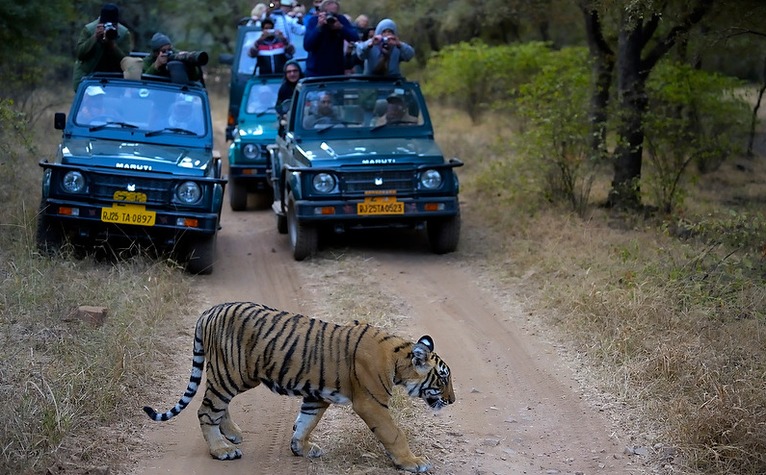 The safari in the park is monitored and regulated by forest official and are completely safe and comfortable. The best time to visit Ranthambore Tiger reserve is in the month of May and June when you can easily spot the tiger, but have to tolerate melting scorching heat. There are two shifts for safari one in the morning and other in evening for different time zone. The timetable for safari is as follows.
The night safari was introduced for a few days but later on, declined as opposed by wildlife activist. To adhere with the plan the safari timings are extended till 7.30 PM in summer.
Table
| | | |
| --- | --- | --- |
| Month | Morning trip | Evening trip |
| 1 oct to 31st October | 6.30A.am – 10.a.m | 2.30 P.m-6.00 p.m |
| 1st Nov – 31st January | 7.00 A.M – 10.30 AM | 2.00 P.m- 5.30 P.m |
| 1st Feb- 31st March | 6.30A.am – 10.a.m | 2.30 P.m-6.00 p.m |
| 1sf April- 15th May | 6.00A.am – 9.30.a.m | 3.00 P.m-6.30 p.m |
| 15th May – 30th June | 6.00A.am – 9.30.a.m | 3.30 P.m-7.00 p.m |
Easy accessibility
The Ranthambore Tiger reserve is easily connected with cities like Jaipur(140 km southeast), Kota(110km northeast), Delhi(394 km), Sawai Madhopur through bus or private cabs. Jaipur, Kota and Delhi are connected through major airlines operating on their airport and even internationally accessible, making it easily accessible from the USA, UK and Australia.
Comfortable stay
Ranthambore tiger safari is also popular because of its hospitality. The illustrious and lavish heritage resort is the perfect way to spend summers like a king in the land of bravery and hospitality. Some of the mentioned property is among the best and comfortable stay in Ranthambore.
Ranthambore heritage Haveli ( Rs 7000)
The Ranthambore camp retreat( Rs 11500)
Hotel juna mahal( Rs 14000)
Aman I.khas (Rs 2500)
Ranthambore tiger resort( Rs 3000)
white mushroom jungle caves(Rs 5500)
Value for money
Ranthambore tiger safari is one of the cheapest tiger safaris in India. The taxi fare would be around Rs 1000 for. Jaipur or Kota and would be around 2500 from Delhi. The entry charges for the park is Rs 800 per person and the cost of guide and vehicle won't exceed  Rs 1500. If we add the luxurious stay to the amount then the total cost of spending a day at Ranthambore will be around Rs 10000-Rs 16000, which is the value for money. 
Fauna of Ranthambore
Ranthambore national park is home for more than 300 species of birds and animals. If you are a nature lover or keen on wildlife photography then Ranthambore National Park is your place. The popular Fauna that can also be spotted apart from tigers are
Leopards
Striped hyenas
Deer
Nilgai
Jackals
Blackbucks
Foxes
Porcupines
Mongoose a
diurnal tigers
Crocodiles
Turtles
Cobra
Python
Rat snakes 
Other sightseeing
The Ranthambore National Park is a picturesque place offering a panoramic view of hills, lakes, forte and landscape. There are many other places that cannot be missed during your tiger safari in Ranthambore National park, like
Ranthambore Fort
Padam Talao
The gigantic Banyan tree
The old Jain temples
Redstone Jogi Mahal
The Tiger safari in Ranthambore, India is an unforgettable experience, which is not only cherished for life long but also pervade your life with enthusiasm and thrill.
A place not to be missed on your stay in India!!!!!
Author Bio :