When it comes to halloween costumes, the 1950s are a treasure trove of inspiration. Whether you're shooting for a sexy get-up or a more playful look, this era has what you're looking for. Are you more of a Sandy or a Rizzo? Do you want to invest in vintage or get a prepackaged costume? Perhaps you prefer to simply style a poodle skirt and get on with the party? Whatever the case, these retro looks can be found online and in your local thrift store if you're willing to dig.
SockHop Queen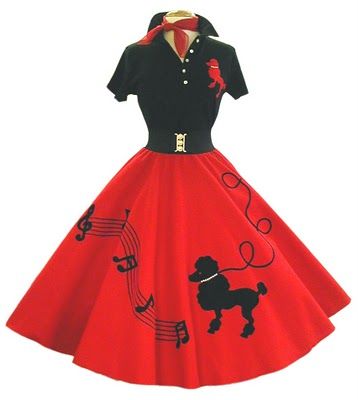 If you're looking for a truly iconic, flattering and easy-to-achieve look – this is your best bet. A swing skirt (a skirt with a lot of bunched fabric that twirls around and falls around the calves) is one thing, but adding a cute poodle (or other kitschy icons) to the bottom makes this a true statement 'fit from the '50s. To achieve this look, we recommend purchasing online or, if you're feeling crafty, snagging a swing skirt from a thrift store (or any swingy A-line skirt will do) and ironing on an applique pup. Complete the look with some classic saddle shoes, an ascot, an updo, and a button down. Feelin' saucy? Pop the collar of your shirt for some attitude.
Miss Lucille Ball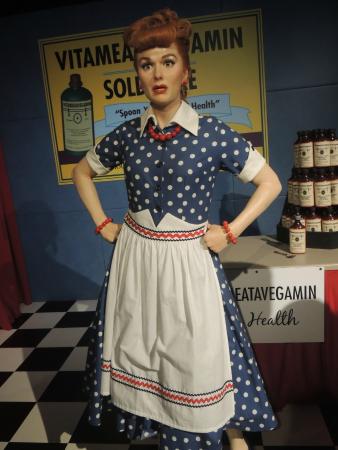 I Love Lucy was America's most charming program of the '50s, and Lucille's fashion sense inspired many. This look works best if you're sporting some red hair already, but with the right curlers anyone can rock this look. For best recognition results, opt for a classic Lucy look – the blue and white polka dot dress. Don an apron and some red lipstick and you're set. You can find this look on the cheap at your local thrift store online.
Carhop Waitress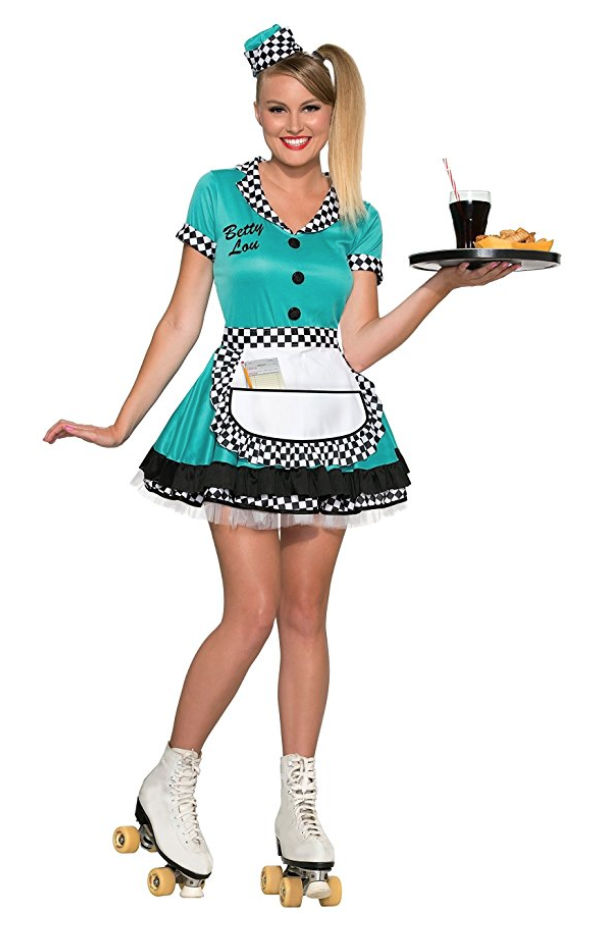 Wanting to capture the essence of the '50s retro diner vibe? Look no further than this costume. Find a collared dress, some funky cat eye glasses, an ascot, and some heels (roller skates not required but certainly encouraged).
Beatnik Babe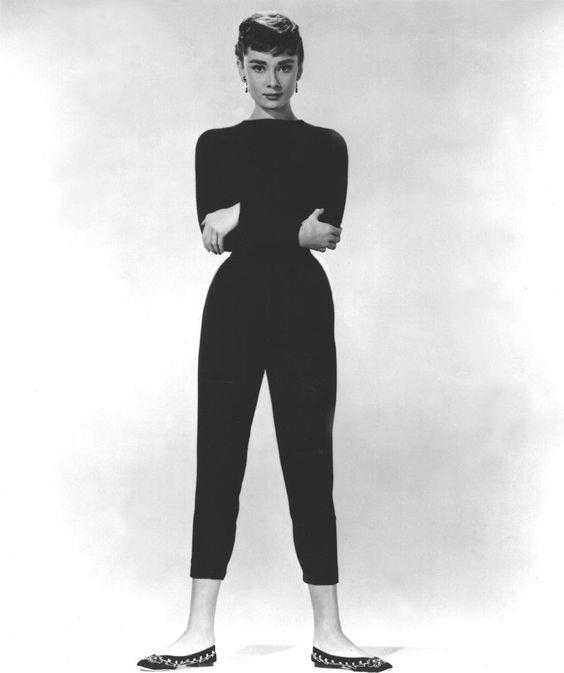 This look is great for folks looking for a minimal effort costume. In fact, you likely already have most of these components in your closet already! The beatnik aesthetic was mostly neutral colors and turtlenecks. Some cigarette pants or capris and ballet shoes complete this outfit. Top things off with a beret, too – the beatniks loved French culture. Honestly, this costume is very in style right now and could be worn as streetwear! If you're a gal with a pixie cut, go for a Hepburn look!
Sex Appeal Sandy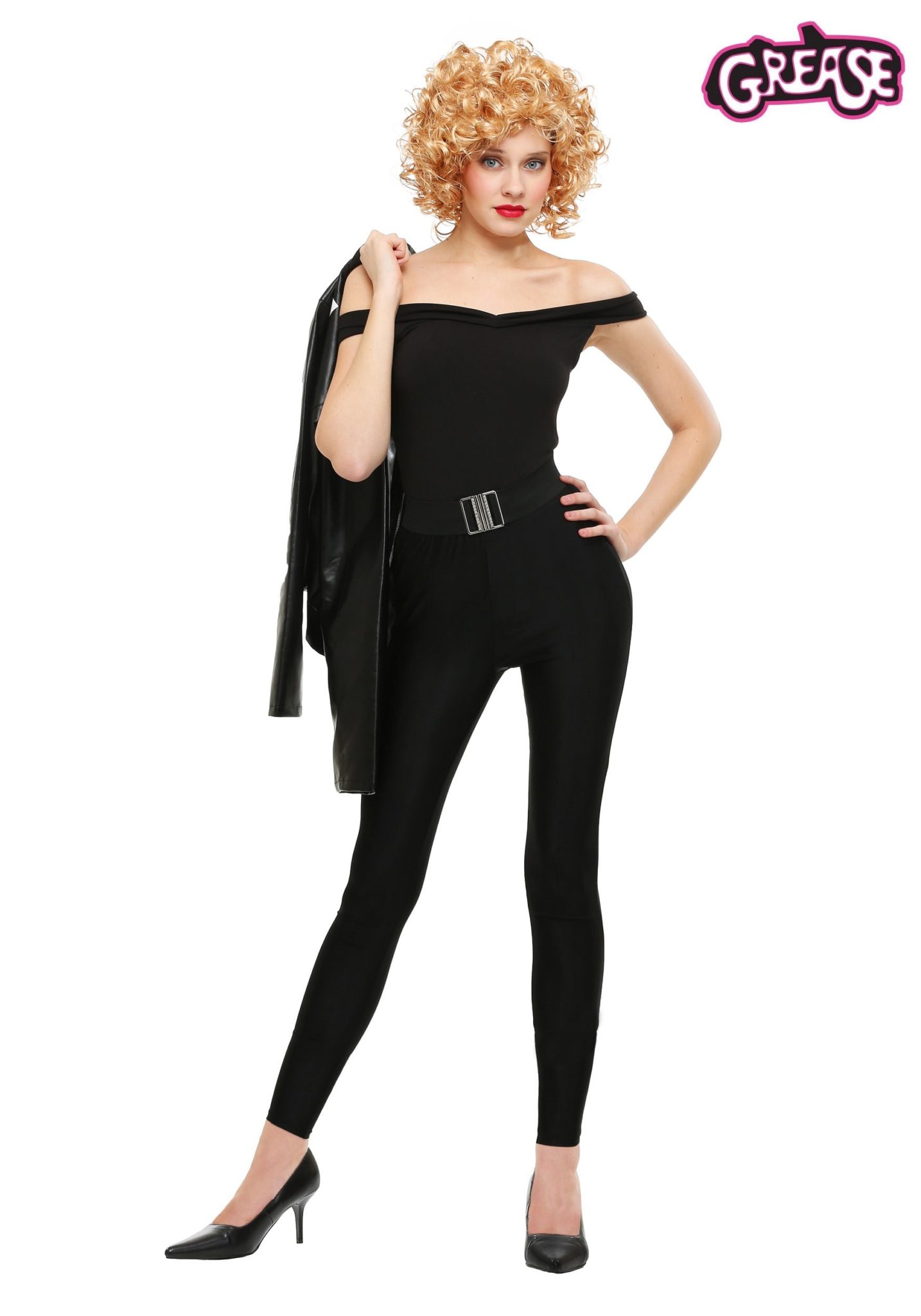 The first of two Sandy from Grease looks is certainly daring! After falling for Danny, Sandy eventually comes around to his greaser lifestyle and dons an all-black 'fit complete with cigarette and attitude. Although the film was made in the 1980s, it does an impeccable job of detailing the styles of the 1950s and will certainly be noticed!
Clean Cut Sandy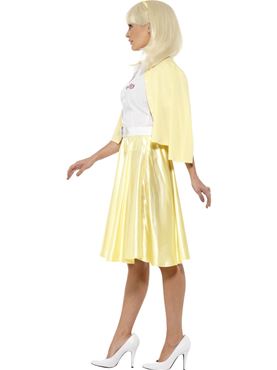 Before there was sex appeal Sandy, there was a different confident, overachieving Sandy – a '50s doll if there ever was one! She scored the favor of Danny Zucko before she slicked up in her all-black outfit. To achieve this look, all you'll need is a yellow swing skirt, yellow cardigan, and high pony tail (in this case, you can probably wear your hair down and flipped at the end, too). Bonus points if you have blonde hair and bangs! Here's a helpful hair tutorial in case you're lost.
Marilyn Monroe
Ah, the classic costume for easy sex appeal. This dress is guaranteed to flatter any bod with it's halter and a-line. Great news: you can find this costume virtually anywhere costumes are sold. If you're feeling like DIY, opt for a white halter (or a swim top works, too!) and a white swing skirt. You can even wear an all-white outfit and curl your hair and still probably pull this look off – curl your hair and slap on some red lipstick and you're good to go!
Betty Draper
Troubled housewife, problematic (and… um… maybe caring?) mother, and former wife of Don Draper, Betty Draper is one of the most dynamic characters in Mad Men. She is also easily one of the most fashionable characters – every episode she dons at least one elegant cocktail dress, even when she's doing some chores. To achieve this gorgeous look, snag a vintage 1950s party dress and some kitten heels. Wear your hair done up and cake on lots of makeup. If you have a date, dress him as Don!
Author Bio :