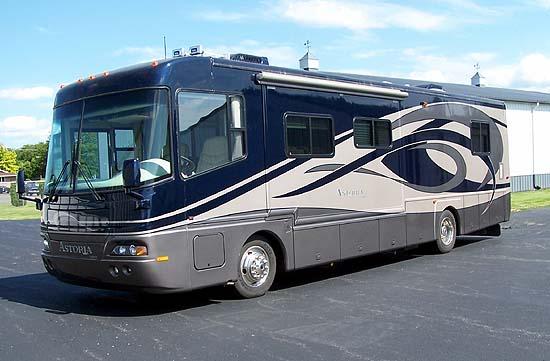 So you are selling your RV. But before you part with your long-time travel bud, make it presentable for buyers who will inspect the vehicle in person before they pay you. You have chosen the best time for a trade-in. When you see the flowers bloom, birds chirp, the mornings sun-drenched, and green foliage all around, you know it is the season of profusion and mellow fruitfulness. Yes, spring is the start of the RV-ing season, and prospective motor home aficionados prefer to invest in a luxury rig around this time of the year.  And when buyers are looking for a pre-owned RV, they want it clean, tuned-up and prepared. Here are a few tips to spring clean your motor home to prepare it for sale:
Clean the Exterior Thoroghly
Your RV exterior has withstood the worst abuse over the years while you were traveling. So keep a long-handled brush handy to get rid of the dirt, dust, oil, and grime. Wiping with water and soap will clean off the exterior. However, the problem that can really challenge your patience relates to insect guts — hard to remove,  messy, and sticky. What you can do is take a wet dryer sheet, apply a little soapy water to the bug-covered headlights and hoods and wipe the surfaces vigorously. Use quality pest cleaning products for removing insect guts from window exteriors. Bike racks, bumpers, slide rails, landing jacks, and bumpers endure a lot from the scorching heat, road debris, and rain. You need to clean these parts as well with a stiff brush, including the wheels. And once you are done with it, wax the exterior for a glossy look. This finishing touch will make your RV more presentable.
Clean the Driver's Area
The driver's area and dashboard need a deep cleaning. Clean the glass gauges with lens wipes. Besides, the windshield, too, after years of use gets dirty and hazy. So, before you put your RV for sale, super clean the glass with steel wool to restore clarity and improve visibility. This deep cleaning is essential because regular wiping is not enough for getting rid of the finer dust that intrudes the pores. You can use this material without worry because an extra-fine material will not create scratches on your RV windshield. In fact, it will add more polish to the glass. The driver's seat needs your attention, too. Use first-rate commercial cleaners to keep your leather seats spick and span. If you have fabric seats, you can use a vacuum cleaner or dry wash the removable covers to remove of the lived-in look.
Add a New look to the Windows and Curtains
Spray and wipe the dust off the window panes with a quality cleaner. Only cleaning, and wiping them dry will not do you any good. For a new look and feel, remove the screens and clean all your RV windows, both outside and inside. Once you take them out, give them a proper wash with lukewarm water and soap. The next step is to wipe the screens dry with a soft towel. The purpose of this DIY project is to make your RV interiors look bright. To impress your customers, you can take a few photographs of the interiors and post them in your RV ad. Do not ignore the window curtains and drapes. Give them a thorough wash or launder them. And if your home on wheels has mini-blinds, use a soft cloth or microfiber duster.
To fetch top dollars by selling your RV this travel season, give your dated vehicle the required shine. Mark a date on the calender this spring to start with the cleaning job because it will take many hours, and even days before you can present your rig for sale. Do everything to clinch the best deal.