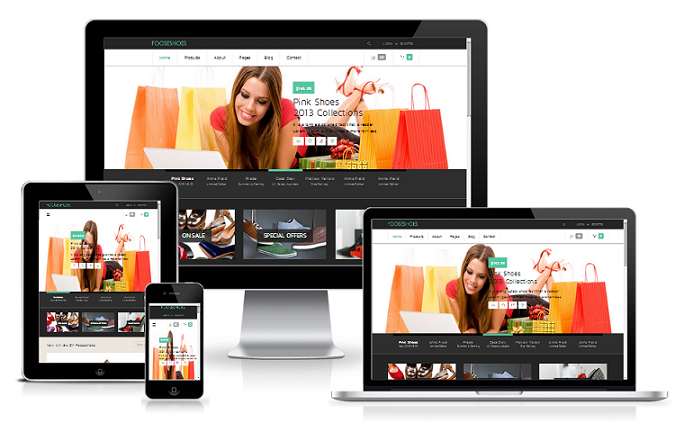 Over the years, the digital world has witnessed many updates on mobiles. From Google's mobile-friendly update to Facebook's instant articles and Google's AMP, the focus of the internet giants is very clear. At anyhow, they want to improve the mobile experience.
No wonder why organizations worldwide are now taking responsive web design seriously. Responsive web designs help in growing online business and play a crucial role in increasing the number of potential leads.
So if you do not have a responsive eCommerce design for your business, you are losing money!
This post further explains how using responsive eCommerce template is a smart move for your online business.
Offers Great User Experience
Smartphone users hate browsing ordinary websites because they need to zoom in their screen for reading content and finding CTAs. Exploring websites on mobile, which are not responsive, ruins user experience. So, it is important to focus on improving the user experience. For this, you can rely upon eCommerce website builders that offer various responsive eCommerce templates that you can use for your website. Responsive design offers faster page loading speed, easier navigation, and visible texts, which boost user experience.
Improves Sales and Conversion Rates
Responsive eCommerce templates make your website optimized for mobiles, which means your website will have clearly visible texts, CTAs, product descriptions, and faster checkouts. Once your site gets easy to navigate on mobiles, it positively impacts your sales and conversions rates.
Boosts SEO
Search engine visibility is a crucial thing for online business because it drives a good amount of traffic, which further increases the probability of lead generation and conversion. Adopting a responsive eCommerce template for your website will help you gain slight improvements in SERPs because it is a ranking signal, which Google has confirmed in its mobile-friendly update. So, impress Google and improve rankings for both mobiles and desktops by adopting responsive eCommerce templates for your online store.
Provides Competitive Advantage
Without a doubt, responsive web design gives the competitive advantage because if you go responsive, you are serving your website for your mobile audience which has already surpassed desktop users. So, responsive web design keeps your head above water by bringing you the potential leads.
Creates a Brand Image
When you choose responsive eCommerce template for your website, you maintain a single design for both desktop and mobile audience. So it makes you credible in the eyes of your audience and search engines. Thus, for an online business, having a responsive web design plays a critical role when it comes to creating a positive brand image for your business.
Over to You
"Mobile is the future," said by many intellectuals. So rather wasting time, it is better to go responsive to boost your business in the digital space.