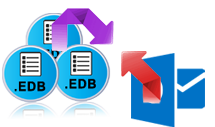 If you are among most of the organization using Microsoft Exchange server for emails. Nowadays company's communication relies on email especially if it has multiple offices or a remote workforce. A business email is something that must be protected. Since it becomes a top priority to protect the email server. For that, a back up is the best solution. The user is required to backup Microsoft Exchange Server Mailboxes in Outlook. Unfortunately, all the Exchange server versions come with limited backup capabilities. If the user keeps a copy of Exchange mailbox then the fear of data loss will vanish.
There are some efficient solutions discussed in this article which may be helpful to backup EDB to PST Exchange 2010.
Requirement for Backup Microsoft Exchange Server Mailboxes
There are some several reasons to keep a copy of Exchange mailbox
Exchange database files getting corrupt
Unfortunately, an important mail item may get deleted
Exchange server crash
Some unexpected disaster leads to loss of mailbox
To resolve these issues, backup is very necessary and we will provide you with some of the best techniques to save Exchange mailbox to PST.
Backup Microsoft Exchange Mail Items by Windows Server Backup
Windows Server Backup basically, it is a feature with the advantages of backup and recovery options for windows server environment. Windows Server Backup is purposeful for use by everyone who needs a basic backup solution. It proves efficient for all kind of users for backup Exchange Server Mailboxes in Outlook.
Windows Server Backup consist of (MMC)Microsoft Management Console, Snap-In, MS Windows PowerShell, cmdlets and command-line tools that are all contained in a comprehensive useful package called the Windows Server Backup. The task of backup Microsoft Exchange server mailboxes and recovery demand of the users are all solved by this Windows Server Backup. This can also be used to save the backup Microsoft Exchange Server Mailboxes to PST. It also keeps a backup of all the existing volumes of the exchange server, selected volumes or specific files and folders including the system state.
If we are talking about the recovery of hard disk then bare metal comes across it. Bare metal recovery is to recover volumes, system state, files, folders or other several applications.
Large establishments, as well as small-scale non-IT organizations and professionals, use this as a basic backup solution to keep the copy of exchange mailbox, even though it is also capable of performing huge operations if required.
Some points to be followed if you want to use this utility
If the user wants backup Microsoft Exchange Server Mailboxes in Outlook, he has to use either a full VSS backup of the selected volume or a full server backup can be selected for execution using the Windows Server Backup.
In order to utilize Windows Server Backup, you must be a member of Administrators group or Backup Operators group. This utility does not support backup of Exchange Server Mailboxes or its storage on Clustered Shared Volumes.
Full system recovery is possible only if the backups are from the same version of Windows operating system that is being recovered.
Backup is possible only of NTFS formatted volumes and these backups cannot be restored on tapes. Also, brick-level mailbox backup copies cannot be created.
Backup Microsoft Exchange Server Mailboxes by Manual Method
Copy of Exchange mailbox manually is undoubtedly the easiest way to fewer mailboxes. The data is stored in an organized manner and also the local access is provided using MS Outlook client. The steps to backup Microsoft Exchange Server items to PST files are as follows:
Run Exchange Admin center > Select the mailboxes that need to be exported > Select the Export to a PST File option.
The same sequence is to be performed to backup each mailbox to PST.
Appropriate commands and scripts are to be used in PowerShell to perform the bulk mailbox export operation. The mailboxes can be filtered or customized using a number of parameters like the Content Filter parameter.
Reason to avoid manual methods to Copy Exchange Server Mailboxes
If the procedure is not executed accurately there are chances of losing the mailbox items.
A knowledge and understanding of the PowerShell, cmdlets is required for executing the method. Also, it is not possible to view items that are to be imported to the PST file.
The mailbox backup operation can be executed in an error-free manner even though the scripts are complicated. But even a single mistake in the implementation of the backup scripts may risky completing deletion of the mailboxes. Also, during the export process of backup Microsoft Exchange Mailboxes to Outlook PST, there are chances of the PST files getting damaged.
Backup Microsoft Exchange Server Mailboxes by Automatic method
There are several drawbacks in the above methods to backup Exchange mailboxes in Outlook through Windows-server-Backup. There might be less assurance of getting an accurate result in the manual methods. There are many users who don't want to stuck in those process which is lengthy, time-consuming and provides no assurance of appropriate results. At this situation, a third-party tool always proves them best.
If you are looking for an automatic and reliable solution for the extra copy of Exchange mailbox as a backup then SysTools EDB to PST tool is an efficient third-party tool for Backup Microsoft Exchange Server Mailboxes and it is also an error-free conversion tool for EDB mailboxes to Outlook PST.
Conclusion Drawn
The overall piece of information includes how to keep a Backup Microsoft Exchange Server Mailboxes with reliable solutions. Techniques for Windows Server Backup and to save Exchange mailbox to PST files are discussed here. Here, the limitations of the manual methods and importance of a third-party professional utility like EDB to PST tool are also discussed.
Author Bio :